Plant Medicine Yoga with Meggan Riley
The use of plants to compliment practices such as yoga and meditation is both ancient and effective.  As a yoga instructor, I have shared essential oils with my students for years to evoke focus, relaxation, presence and inner peace!  I am excited to expand the use of plants now into the realm of cannabanoid products that also enrich the experience.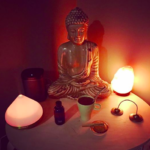 Altar at Entourage Clinical Services
Diffusing CBD compound, drinking CBD tea, honoring the ancients and the wisdom of plants!
Plant Medicine Yoga
Join Yoga Instructor Meggan Riley for an Introduction to Plant Medicine Yoga which combines the clinical use of THC free Cannabanoid products in tandem with yoga and meditation.  Each week a sequence designed to target students varying needs will include gentle and beginning level yoga postures, breathing exercises and meditation methods.  Students will learn techniques for pain management, releasing stress and anxiety, increasing body awareness, improving mental focus, and applying mindfulness to support their overall wellness.  Participants will learn how to voluntarily use Mary's Nutritional's CBD Products to compliment the practice and introduce plant medicine use into their experience.  This series will benefit students with  a regular practice as well as those that are new to yoga.  Please be prepared to disclose any existing physical and mental medical conditions that you would like to target in your practice.
I currently offer Plant Medicine for Private Sessions Only
Please contact me if you would like to book a private session, a class or a series at your studio or event!  
"Janamusadhi mantra tapah samadhijah siddhayah"
Siddhis are born of practices performed in previous births, or by herbs, mantra repetition, asceticism or by samadhi.
– Yoga Sutra 4.1