My home studio is Shine in Batavia, IL
Located at 5 N. River Street on the east side of the Fox River
Weekly Public Schedule:
Tuesday Evenings – 5:30pm – All Levels
Wednesday Mornings –  9:30am  – All Levels
Friday Mornings – 9:30am – Level 2/3 Playtime!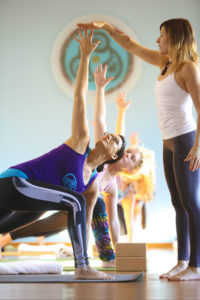 "I feel happy and they all feel happy being there, so they make me happy and I make them happy. We just spend a little happy time together, that's all.  We just talk about something or do something in the name of yoga. Yes, that is the secret. There is a joy in being together, that's all.  So that is the life of detachment. There is no expectation. We just come together." – Sri Swami Satchidananda – commentary on Yoga Sutra 1.15
PRIVATE SESSIONS AVAILABLE UPON REQUEST
Available for private or semi-private sessions
Sessions held at Shine in Batavia
$100/session or $450 for 5 classes or $900 for 10 sessions
Contact me to make appointment: meggan.e.riley@gmail.com
Private yoga can be one-on-one or in small groups. Examples of my private offerings  include yoga therapy for injuries, pre or post-natal, body positive yoga , yoga for mental health, advanced yoga, yoga for athletes, yoga for sister circles, yoga for men, yoga for youth, yoga in nature, couples yoga, meditation and mid fullness.  If you have any special requests, do not hesitate to ask!
I am also available for private retreats or simple weekend getaways.  Get a group together and we can create a unique experience focused on the needs of your group.  Contact me to explore your vision!
Student Testimonial from Sara: Meggan Riley is an amazing yoga instructor. She customized several small group classes for me to accommodate my vertigo. Those classes were just as challenging, fun and creative as her regular classes, and I was so happy to be able to continue to practice in this modified way. I am always impressed by the way Meggan truly cares for her clients. She is the best!