Sutra 1.1 -Atha Yogānuśāsanam
Now the exposition of Yoga is being made.
As I step into greater self -awareness, I step closer into union with The Absolute. Through this yogic journey, I have become content with the fluctuations of being. I understand that the state of 'being happy' is not a life devoid of problems. Happiness comes through the acceptance of every experience. Happiness comes through union with The Absolute. With this union, there is inevitably an understanding that the individual self and the universe are one. That oneness is The Absolute. Piece by piece, yoga has given me glimpses into this divine reality, and as a teacher I am blessed to be able to share the messages that unfold through my personal journey and practice. Through teaching, I want to humbly share the insight I have discovered, so that together, we can participate in a co-creative process of uplifting the human soul, the collective consciousness and ultimately together, experience Samadhi with The Absolute.
Meggan's Bio
Meggan has been been practcing yoga for almost 20 years and teaching since 2009. She is a certfied Hatha Yoga Instructor & has completed a 200-hour Anusara® Inspired training. As a teacher, Meggan hopes to inspire students in their practice, by providing a safe, welcoming & challenging environment in which to breathe & move. She is a mother, an entrepreneur, an activist, a music lover, a vegetarian, a self-proclaimed eco-warrior & deeply committed to teaching yoga from the heart.
Meggan offers private and public classes at her home studio, Shine, in Batavia, IL and travels in the US & Internationally offering workshops, trainings, retreats, festival classes and more!  Meggan is a Content Developer & Yoga Instructor for San Diego based, Take Pride Learning, which offers innovative and effective technology based literacy coursework for young readers. One of her newest ventures is offering Plant Medicine Yoga classes with the respected team at Entourage Clinical Services in West Dundee, IL.
Through teaching, it is my intention to inspire your creative expression of the divine.
For me, yoga & mindfulness have been that expression.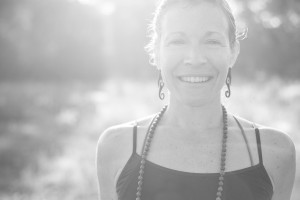 Photo: Kamm Creative
Thousands of candles can be lit from a single candle, and the life of the candle will not be shortened. Happiness never decreases from being shared. ~ Buddha